In essence, CPLR § 5235 provides relief to a judgment creditor who wishes to sell your real property after it loses its lien status after 10 years.
CPLR § 5235, "Levy upon Real Property," while short, is not winning awards for clarity to the unpracticed: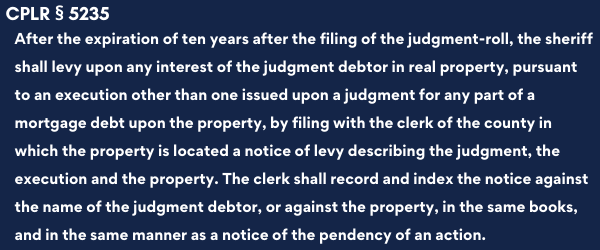 CPLR § 5235 was enacted to prevent the "lien gap" from impairing a judgment creditor's right to real property after the 10-year automatic lien period following a properly filed "judgment roll"[1] and docketing of lien. For additional information on docketing a judgment, see our prior blog entry, "Can a Debt Collector Place a Lien on my Home? Yes, Here's How." that summarizes the scope of CPLR § 5203).
A judgment is enforceable for 20 years under CPLR § 211(b). The judgment loses its lien status after the first 10 years. CPLR § 5236(a) ordinarily bars the sale of real property with judgments but no recorded lien. To remedy this lien-expiry problem, § 5235 permits a levying Sheriff to simply file a "notice of levy" with the appropriate county clerk. This action will prevent a judgment creditor's lien from being superseded by another's during sale procedures.
Stated another way, "if 10 years have passed since the filing of the judgment-roll—the moment that technically begins the 10-year lien period under CPLR 5203-—the sheriff will levy against the real property by filing a "notice of levy" with the realty county's clerk. This restores the lien of the judgment while the sheriff proceeds with the sale of the realty under CPLR 5236." (Richard C. Reilly, Practice Commentaries, McKinney's Cons Laws of NY, CPLR C5236:1) 
Alternatively, a judgment creditor can renew the judgment under CPLR § 5014(1) or move to extend the lien period under CPLR § 5203.
We are getting close to completing our CPLR Article 52 summary series relating to enforcement of money judgments in New York. 
As always, do not hesitate to call 888-271-7109 or contact us with any debt concern.
---
[1] A judgment-roll consists of those integral litigation documents (i.e. summons, pleadings, judgments, and orders involving merits of case) prepared and filed by the "winner," along with the submitted judgment. CPLR § 5017.