Two recent lawsuits against Smithfield Foods are not going its way in the District of Columbia. Both lawsuits allege false advertising by Smithfield. One case asserts that Smithfield Foods misled consumers about its "crate-free" pork. The other lawsuit claims that Smithfield took advantage of consumers and workers during the COVID pandemic.
Judges in both cases recently denied the pig producer's attempts to have those lawsuits dismissed.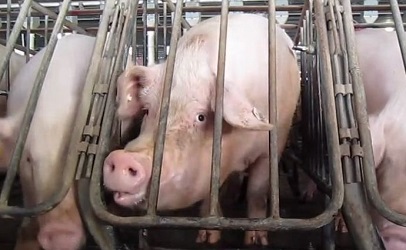 The Humane Society of the United States v. Smithfield Foods
The Humane Society's case against Smithfield Foods centers on the company's treatment of pregnant pig sows and the traceability of its pigs to their farms of origin. It alleges that some consumers rely on promises relating to crate-free pork. Those consumers consider such practices to be inhumane, and they want to make purchasing choices that conform to their ethical concerns about pigs' suffering.  
Background of the Case
The Humane Society alleges Smithfield Foods committed to doing away with gestation crates in 2007. It made several statements in subsequent years stating its commitment to stopping the practice but is still using them.
The lawsuit also alleges that Smithfield Foods made several public statements that it can trace its pigs to their farm of origin. The suit alleges that the company hides its records and its traceability claims are false.
The District of Columbia Consumer Protection Procedures Act (CPPA), specifically DC Code Section 28-3904, bars unfair or deceptive trade practices. The lawsuit alleges violations including:
Smithfield Foods falsely advertises its pork as traceable, from comfortable, safe, and healthy pigs, not from facilities using gestation crates, and from a company converting to group housing.
Smithfield Foods sells pork falsely connected to housing practices endorsed by the Humane Society.
Smithfield Foods sells products in a manner not consistent with federal law.
Smithfield Foods filed a motion to have the lawsuit dismissed. It argued that the Humane Society mischaracterized its written statements regarding gestation crates and traceability. It also argued that the claims are outside the statute of limitations and that the Humane Society's claims are preempted by federal law and not available under the CPPA.
Judge Williams' Decision (Humane Society of U.S. v. Smithfield Foods)
Judge Yvonne Williams allowed each count to move forward. She found that Smithfield Foods' statements were an admission to still using gestation crates despite several claims to the contrary.
She also ruled that Smithfield Foods alleged false claims that it ended the practice could lead consumers to believe the Humane Society endorses the company's practices.
Judge Williams found that the Humane Society successfully showed that Smithfield Foods' practices fall under the auspices of federal law. She also found that the three-year statute of limitations had not expired and withheld judgment as to whether federal law preempts DC law.
Food & Water Watch v. Smithfield Foods
In another civil case against Smithfield Foods, the nonprofit organization, Food & Water Watch, alleges that the company lied about the national food-supply chain during the COVID pandemic. It also alleges the company lied about its workplace safety practices during the pandemic.
Background
Food & Water Watch is also suing Smithfield Foods under the District of Columbia CPPA. They argue that the company publicly claimed meat shortages despite surging exports and plenty of pork in cold storage. They also allege that the company misled the public about COVID case counts in its plants and did not follow CDC guidance on safe practices, despite saying they had.
Finally, Food & Water Watch alleges that Smithfield Foods misled the public by claiming that social distancing is not possible on its production line, despite CDC guidance specific to Smithfield Foods' plants.
Smithfield Foods asked Judge Heidi Pasichow to dismiss the suit. It argued that the claims it made were years ago and that there is no present effect on consumer purchases. They also argued that Food & Water Watch has no standing because it is not a consumer. The company alleges that the nonprofit can't point to a consumer misled by its statements or harmed by relying on them.
Smithfield Foods also claimed the suit had no merit because its statements were part of a national discussion about the food supply during a pandemic and that they weren't the only ones talking about it. They argued that as part of that national discussion, the speech was protected. Smithfield argued that reasonable consumers would not misinterpret their statements about workplace safety like Food & Water Watch did.
Judge Pasichow's Decision (Food & Water Watch v. Smithfield Foods)
Judge Pasichow found in favor of Food & Water Watch and allowed the lawsuit to move forward. She noted that there is a long-standing rule in the DC courts that Motions to Dismiss test the sufficiency of complaints. They do not rely on the sufficiency of factual matters. She determined that Food & Water Watch had shown sufficient reason for a plausible claim for relief. The issues moving forward are for a fact-finder and can be further developed in later stages of the case.
False Advertising Law Protects Consumers
It is too soon to predict the outcome of these two Smithfield Food lawsuits, but they highlight the importance of the law in protecting consumers. People rely on companies to tell the truth and make purchasing decisions based on what companies tell them. Federal laws, such as the Federal Trade Commission Act, and various state laws, such as the CPPA, are in place to hold companies accountable when they mislead consumers with their advertising.
Consumers increasingly want assurance that the products they use do not involve abuse or mistreatment of animals. To assure them, companies make claims such as "ethically sourced" or "humanely raised." Unfortunately, those claims are often unsubstantiated. The practice of misrepresenting the conditions under which animals are born, raised, or killed is called humane washing.
Other companies engage in greenwashing. This involves claims regarding products being environmentally friendly when they are not. Once again, consumers are left wondering whether they can trust that the products they use match their morals and ethics.
A False Advertising Lawyer Helps Protect Consumers
Consumers need advocates who fight for food justice and fair market practices. It can be daunting to face large corporations with deep pockets who mislead you into buying their products. You don't have to do it alone. Contact The Langel Firm to help you investigate and bring suit against companies that have harmed you with their misleading advertising practices. We are well-versed in practices like humane washing and greenwashing, and we aren't afraid to take on the behemoths that dominate the US food industry.
Related Links:
To speak with Jesse Langel personally about these types of claims, contact him or complete this tailored questionnaire.